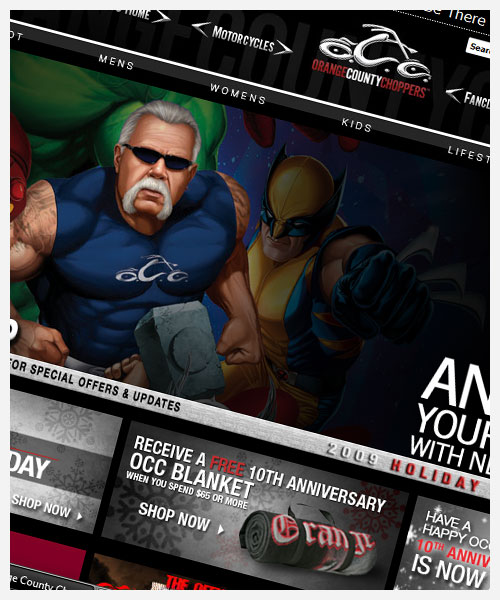 Heads-up: Since the publishing of this post the show "American Choppers" has been cancelled after 6 Seasons, their last episode was aired last February 6, 2010 with the *Kobalt bike build. But rumor has it that they will be returning for a Season 7, well that's reality show for you. Let's just wait what else the Teutuls shop has in store for us.

Update: September 2010, Orange County Choppers is back on air as Senior Vs. Junior. Basically it's OCC Vs. Paul Jr. Designs, like a biker build-off between father and son. Hmmmn, this looks interesting.
For anyone familiar with American Choppers or Orange County Choppers (OCC) you would be wondering by now and even double checking this entry if it's the right article category. For those who have never heard of them, Orange County Choppers is a family owned business that customizes bikes, yup bikes, big V-twin bad boys that go vroom, vroom. They have a long running reality show on the Discovery Channel, Discovery Turbo and TLC called American Choppers, their show is all about building theme bikes, starting with Research n' Development, to the conception of the design, then assembly and paint all the way up to the unveiling and everything in between. Why they've made it to this list is simple they customize bikes, that's it and if you haven't seen them in action I suggest you be on the lookout for their show, although lately the show is more about the drama of the Teutul family than the build. (Can anyone sense my disappointment? I'm hoping good things for the next season) Or go checkout their website at www.orangecountychoppers.com to view their work.
Moving on, every time I watch the show I get this feeling that makes my creative juices flow, it's hard to explain why I guess I find it interesting and influential when they build theme bikes that would always have theme incorporated in the overall design making it unique from any jobs they've done before. They go out of their way to have elements that really pops out from the bike but would not affect functionality. Carving steel to look like something else it never seize to amaze me how many times you can actually design a frame on two wheels. It's truly inspirational (sometimes) to watch the show and see metal being pounded into a functional piece of art, from the mind of Paulie "Paul Jr." who has already moved on to new projects in a totally different direction, his dad Paul Sr. a true veteran of chopper building, to the artistic renditions of madman Jason Pool their in house designer (who digitizes all of their concepts, Sr. calls him "The Drawer"), with the metal re-shaping skills of Rick Petko (shaping metal like clay) plus the stand out paint job by Nubs of www.nubgrafix.com I know it's an eclectic ensemble but the bottom line is that it doesn't really matter what inspires us to be creative whether it's a poster, a banner, a web design, a song, nature even a reality t.v. show about bike building as long as the job gets done, so these guys stays on my list.
OCC bike builds for techie companies
Intel Theme Bike
Intel commissioned OCC to build them a theme bike that would commemorate the release of their Quad Core line. This bike comes with a quad engine that's V-twin (times two) and some cool toys from intel like the digital speedometer, a gps etc…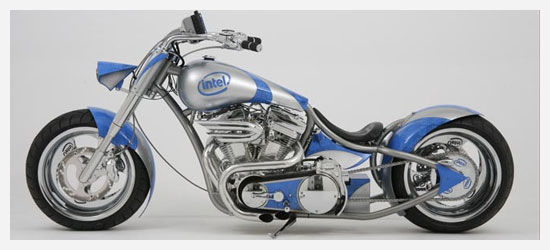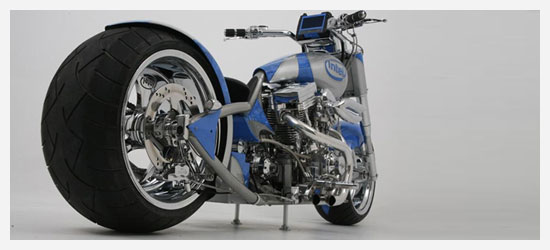 HP Theme Bike
The bike HP commissioned OCC to make for them.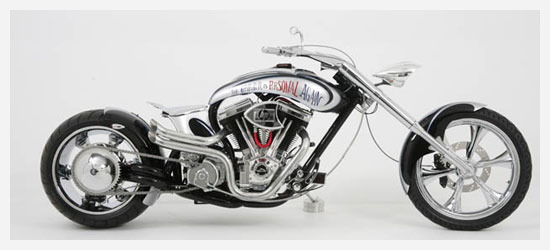 Siemens Theme Bike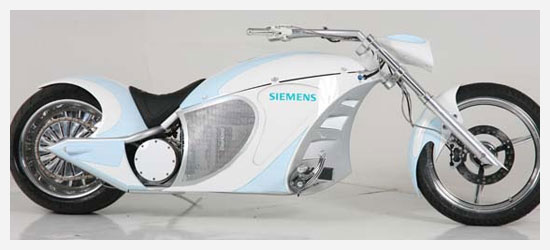 Siemens asked OCC to make a bike that's environment friendly for their campaign of renewable energy source. The guys came through with this bike that totally runs on batteries and uses a motor instead of an engine and still maintain the OCC chopper power punch.
godaddy.com Theme Bike